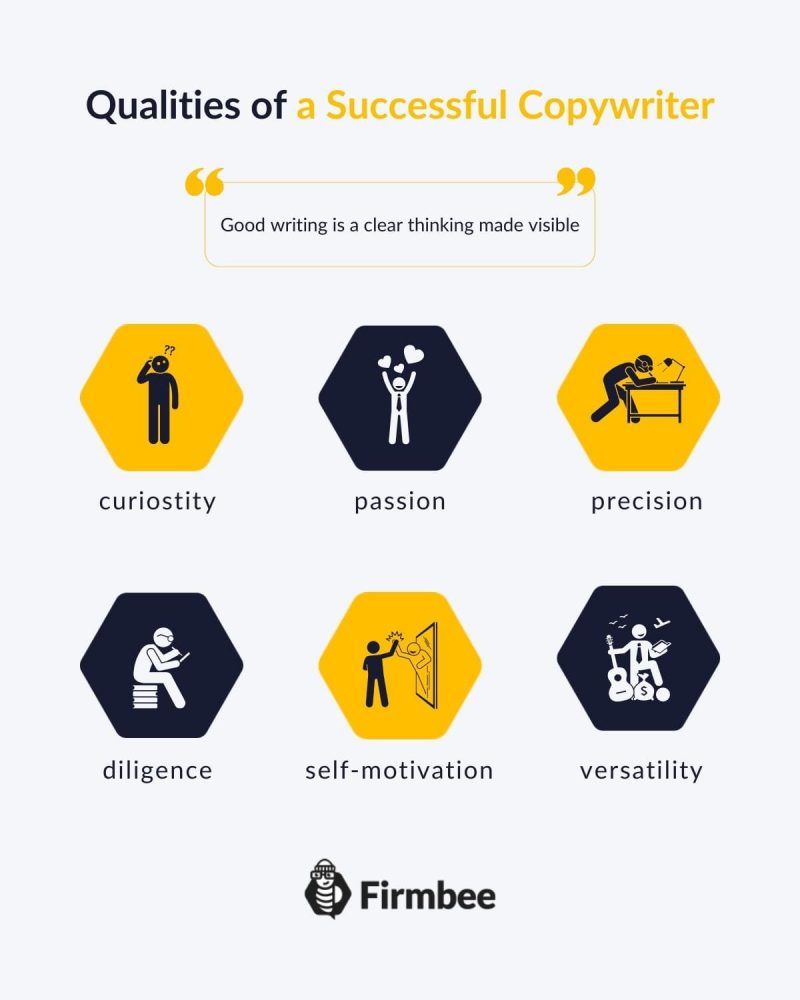 How to find a good copywriter?
Copywriting has become and extremely popular profession in recent times. There are more and more advertisements both from the freelance copywriters and agencies in the press and the internet. Authors offer a great variety of styles and text types. How to find a quality copywriter, who will handle all your content needs. Read the article below and find out.
Search in the right places
There are web-sites where copywriters add their advertisement. Portals for freelancers such as Fiverr and Upwork are such places, where without hassle we may find copywriters for our business.
Most of the offers come from the beginners – copywriters, who make their first steps in the profession, therefore we may consider to search elsewhere to find somebody more experienced.
Copywriting agencies
One of the possibilities is to start cooperating with the copywriting agency. Each company of such status has to ensure high quality of their services as well as provide comfort and transparency during the whole process of cooperation.
In case of well-established agencies we may have a certainty that our content was created by a professional copywriter. We may choose an agency which suit best our expectations and content needs. Good quality of service provided by agencies usually mean that our cost will be higher than those of hiring a freelancer.
LinkedIn
To lower the cost of employment we may decide to search for copywriter single-handedly. LinkedIn portal may be a help in this task. Professionals from many industries place their advertisement there, copywriters as well. Each individual's profile act as on-line curriculum vitae. We may easily verify the experience and skills of the person, we consider for hiring.
Through LinkedIn's functions employer can: visit the profile of potential employee, read the employment history, or access the references from previous employers. Once the most suitable person is found there is the time to write a direct message with the offer of cooperation.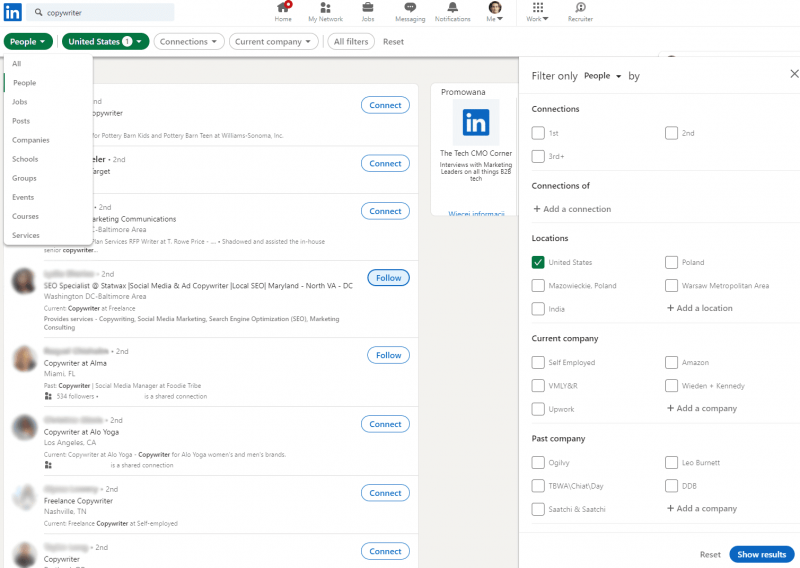 Personal web-sites of copywriters
Experienced copywriters usually have their own web-sites where they advertise their services. On those web-sites we may check the portfolio of their work as well as read all the recommendations and references.
The easiest way to find out about copywriting professionals is to use general internet browser. This simple task tells much about copywriter's content optimization and SEO skills. The potential copywriter should be highly knowledgeable about SEO tactics to ensure that the content is accessible to wider audience.
Groups on Facebook
On Facebook there are many groups directed at copywriters and creative professionals, hence it is quite popular place, where companies and individuals publish their job ads. There we can find a great number of copywriter specializing in different fields. It is worth to be cautious, while searching on the Facebook, because price range for all advertised there services is very large and the quality of written texts also varies.
On Facebook we may encounter both experienced specialists and complete laymen. Still there is a benefit of this situation – we may hire somebody for prices lower than those offered by copywriting agencies or those offered by copywriters with strong personal brand.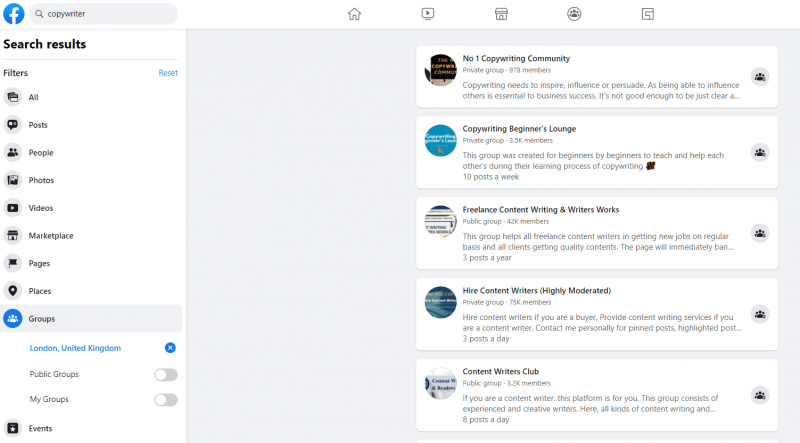 How to find a copywriter for your business
1. Identify the type of copywriting you need
One of the main misconceptions about copywriters is that they're all the same, but this couldn't be further from the truth. Copywriters are skilled individuals, so a writer who specialises in generalised blog posts won't be the right fit for your technical eBook, and vice versa. Therefore, to make sure you find the right copywriter for your content, you need to decide on the specifics of your project.
For example, are you looking for product descriptions, web copy, blog posts or something else entirely? You also need to determine who your target audience is and the results you want to see, whether that's driving quality traffic to your website or increasing product sales.
• SEO (website content, product descriptions, blog posts)
• Creative (commercials, slogans, jingles)
• PR (press releases, statements)
• Sales (advertorials, product descriptions)
• Technical (white papers, eBooks, industry guides)
Once you've chosen the best type of copywriting for your project, you need to decide if you'd like the copy written by someone with experience in your sector. This isn't essential, but it can be beneficial if the service or product you offer is more niche.
2. Carefully consider their skill level
Once you have decided what type of copywriting you need, you should also consider the skill level you require. Bear in mind that more technical content will require the skills of a professional copywriter who has experience writing copy for your niche, whereas more generalised content may not. The majority of copywriters work freelance and will be looking to build long-term partnerships, so remember that no matter their skill level, they're hoping to impress you.
3. Create a clear brief
Following on from the two points above, the quality of your brief is essential if you're going to find good copywriters for your business. A great copywriting brief includes lots of detail, examples of copywriting you like and any resources the writer will need to write your copy, such as images and links to your website. However, it should also include information about your company, your audience, the product or service you're offering and the type of content you need producing. The more information you can provide, the more likely you are to find a copywriter best suited to your requirements.
"One of the most difficult aspects of outsourcing your content marketing is providing the content creator with the correct instructions.

"Content marketing is difficult, but outsourcing can make it more effective. Great instructions ensure that you can maintain quality."
4. Do your research
Now that you've created your brief and decided on the type and level of copywriter you need, it's time to actually find one. Hiring talented copywriters can sometimes prove to be a challenging task if you don't know where to look, which is why it's important to educate yourself on the different options available.
Job boards such as Fiverr and Upwork are good places to find qualified writers and they allow you to post your requirements in order to generate applicants. However, social media is also becoming an increasingly popular way to search for freelancers across a range of niches, so try joining groups on Facebook such as The Copywriters Club or doing a quick search for copywriters on LinkedIn or Twitter.
While these are two great options to consider, it can take a lot of time to review the applications and responses you receive. If your project is urgent or you are hoping to avoid having to select a copywriter yourself, you could turn to a content agency such as Copify. All you need to do is select your content needs (including the word count and content type) and upload your brief. Once you've placed and paid for your order, it will be assigned to the copywriter who best matches your requirements.
These aren't the only options available, but carefully think about how much time you can dedicate to choosing a copywriter and how quickly you need your project completing before making a decision.
5. Ask for examples
There is nothing wrong with asking your chosen copywriter or content agency for examples of similar work they have already completed. After all, you wouldn't buy a car without test driving it first, so don't be afraid to ask for samples to make sure the copywriter is the right fit for your business. Looking at previous examples of copywriting might also help you decide what it is you want from your own copy, especially in terms of the tone of voice and authority level you're hoping to achieve.
How Much does a Good Copywriter Cost?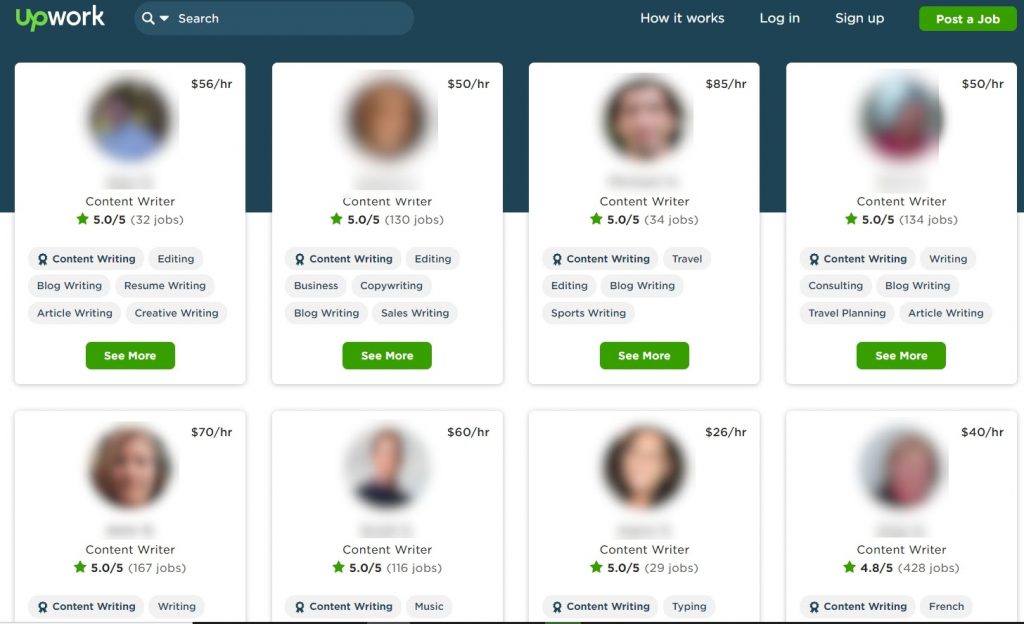 Here at GamerSEO, we provide high-quality services for businesses revolving around gaming. However, as an SEO agency, compelling content is not the only thing we can do for our customers. Check out our products and services right now!
Freelance Copywriting
Full-time Copywriting
Does your business need something more than a sales letter for the customers or a Facebook post from time to time? It means you should hire a proper long-term worker. To find one, here are the best options:
SEO Agencies
If your project involves content planning, writing, publishing, and auditing, you may want to turn to an SEO agency. Most of them (like us) will provide complex solutions for all types of businesses.
Even a Perfect Copy is Not Enough
It's like buying medicine. If it doesn't help, it means it is useless medicine, and you only wasted money. In the heat of the moment, it doesn't matter that you are allergic, your organism doesn't tolerate the active substance, or your bad diet neutralizes it.
How much does a good copy cost?
Prices should be evaluated individually for a specific project. Poor copies start working from ,01 per word. Good ones take more than .10. The best ones will not even consider writing for less than 800 per word.
Where can I hire a copywriter?
What should I look for when hiring a copywriter?
Full-time workaholic with four years of experience in Content Writing and Copywriting. Creating texts that bring sales, content that's worth reading, and paying attention to detail is his key to provide quality and results. On-page SEO enthusiast and voice-over in his spare time.
Resource:
https://firmbee.com/how-to-find-a-copywriter
https://blog.copify.com/post/how-to-find-a-copywriter
https://gamerseo.com/blog/how-to-find-a-good-copywriter-get-the-best-content-for-your-business/