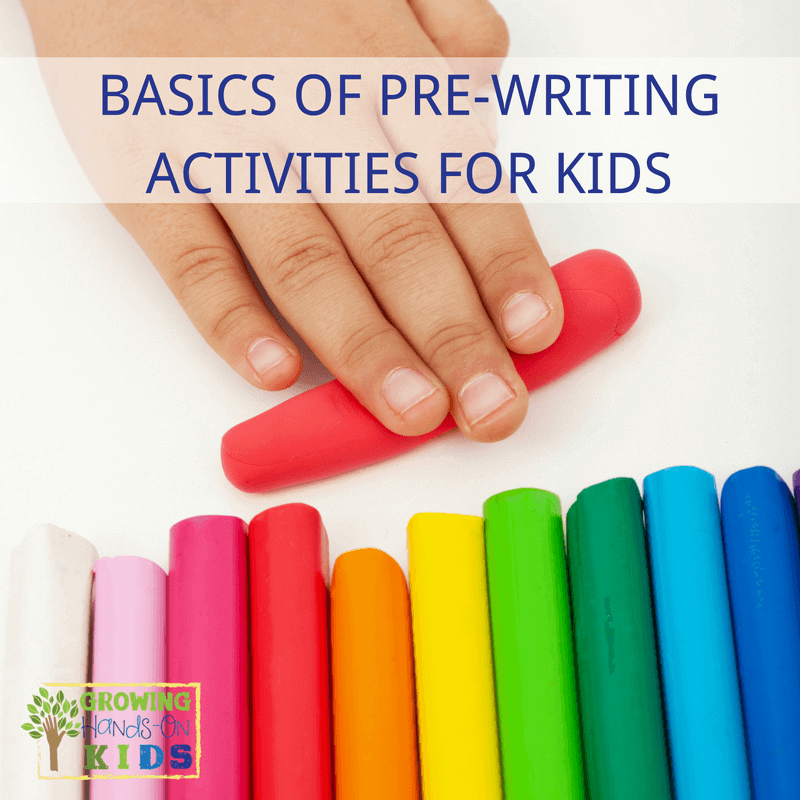 Preschool Pre-Writing Skills
This pre-writing skills resource is a resource for anyone working with preschoolers. The fact is that in the preschool years, developmentally, preschoolers should not be writing. Rather, pre-writing is the area of focus. A huge topic of discussion for pediatric occupational therapy professionals is the fact that preschool pre-writing skills are developed rather than introducing handwriting at this young age. Developmentally, there is a lot of progression in the preschool years and pre-writing skills are just one of the many areas. Refer to more information on preschool activities for other developmentally appropriate activities.
Fun Ways to Work on Pre-Writing Skills
Since the typical age for children working on pre-writing lines is ages 2-5, I like to focus on fine motor skills that promote learning these lines and shapes instead of using paper and pencils/crayons. Your child will need the fine motor strength these activities provide in order to have good pre-writing lines and later good letter formations.
Check out my brand new ebook, The Basics of Pre-Writing Skills for Kids. This ebook takes an in-depth look at the developmental sequence of pre-writing lines and why they are an important part of the foundations for handwriting skills.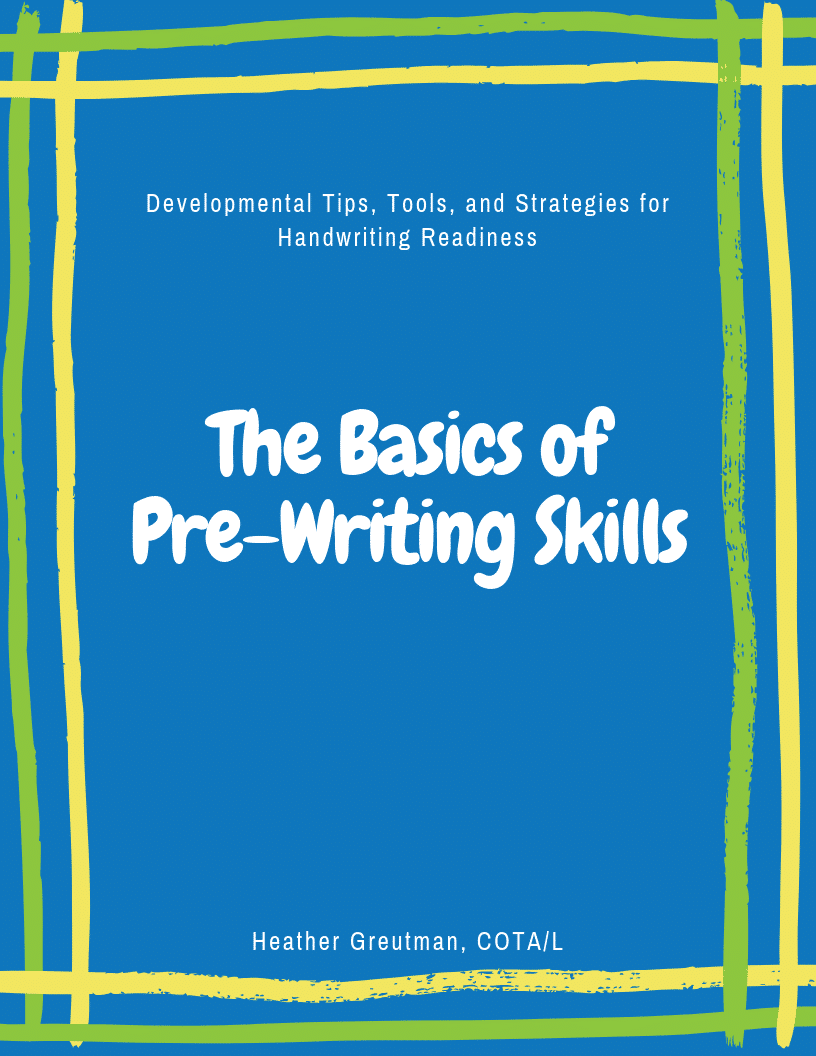 More Handwriting Resources
CONTENT DISCLAIMER: Heather Greutman is a Certified Occupational Therapy Assistant.
All information on the Website is for informational purposes only and is not a replacement for medical advice from a physician or your pediatrician. Please consult with a medical professional if you suspect any medical or developmental issues with your child. The information on the Websites does not replace the relationship between therapist and client in a one-on-one treatment session with an individualized treatment plan based on their professional evaluation. The information provided on the Website is provided "as is" without any representations or warranties, express or implied.
Do not rely on the information on the Website as an alternative to advice from your medical professional or healthcare provider. You should never delay seeking medical advice, disregard medical advice, or discontinue medical treatment as a result of any information provided on the Website. All medical information on the Website is for informational purposes only.
All activities outlined on the Website are designed for completion with adult supervision. Please use your own judgment with your child and do not provide objects that could pose a choking hazard to young children. Never leave a child unattended during these activities. Please be aware of and follow all age recommendations on all products used in these activities. Growing Hands-On Kids is not liable for any injury when replicating any of the activities found on this blog.
YOUR RESPONSIBILITY The Website was developed strictly for informational purposes. You understand and agree that you are fully responsible for your use of the information provided on the Website. Growing Hands-On Kids makes no representations, warranties, or guarantees. You understand that results may vary from person to person. Growing Hands-On Kids assumes no responsibility for errors or omissions that may appear on the Website.
What are the building blocks for emergent pre-writing skills?
"You can encourage a child by pointing to words or letters when reading and talking about the sounds of letters in their names. For example, if you're out shopping and your child's name is Edward you see a sign with the letter E you can point to it and say, 'Can you see an E in that sign? I can see an E. It looks like the letter E in your name.'"
Hailey also strongly encourages building up a child's hand strength with clay. "A great way to build strength in the hands is through clay. Clay has more resistance than putty. We do a lot of work with clay here at Petit ELJ Springfield, so hands become much stronger."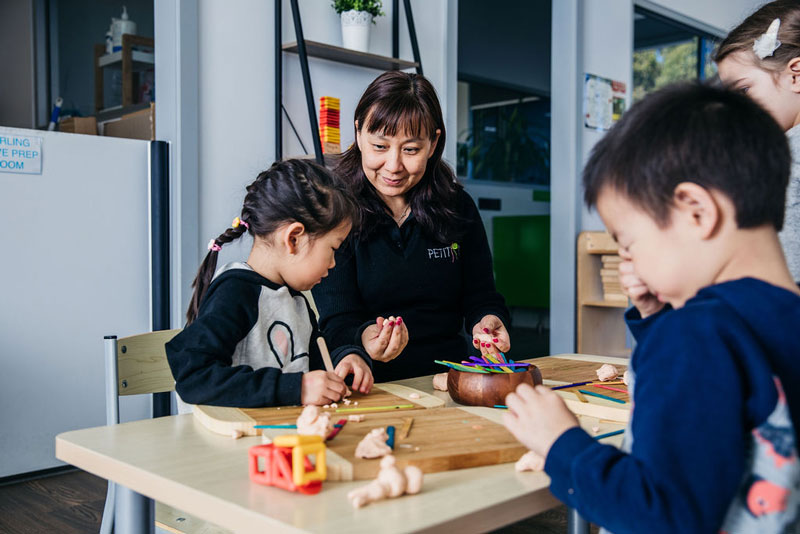 Are there pre-writing milestones like mark making?
While you can encourage children as young as babies to develop an interest in writing, Hailey doesn't feel pre-writing milestones fit into specific age groups. "Every child develops differently."
"You can introduce toddlers to painting as a way of being able to express their feelings and thoughts on paper. You can let children have the freedom to draw what they want rather than guiding them to draw a specific way."
"For preschoolers, you can start to encourage them to introduce letter and number knowledge into their drawings and other interests. It's important not to force it, as you don't want to discourage learning but to see whether they want to do it."
Mark making for children includes the use of lines, textures, patterns and shapes. You don't always need paper to encourage mark making as you can also do it in the sand, snow or mud. By talking about the shapes and the size of shapes that children draw, it encourages language development.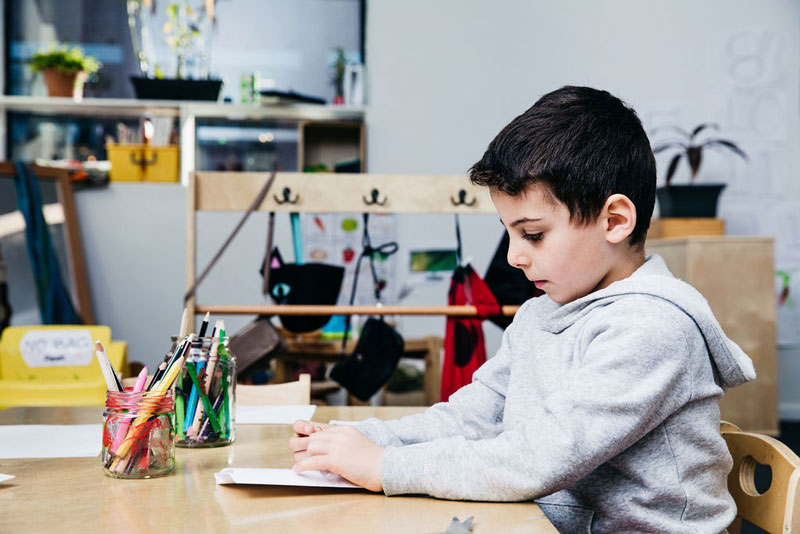 Source:
https://www.theottoolbox.com/preschool-pre-writing-skills/
https://www.growinghandsonkids.com/basics-pre-writing-activities-skills-kids
https://www.petitjourney.com.au/pre-writing-skills-for-children/